Learn about different method of hair extensions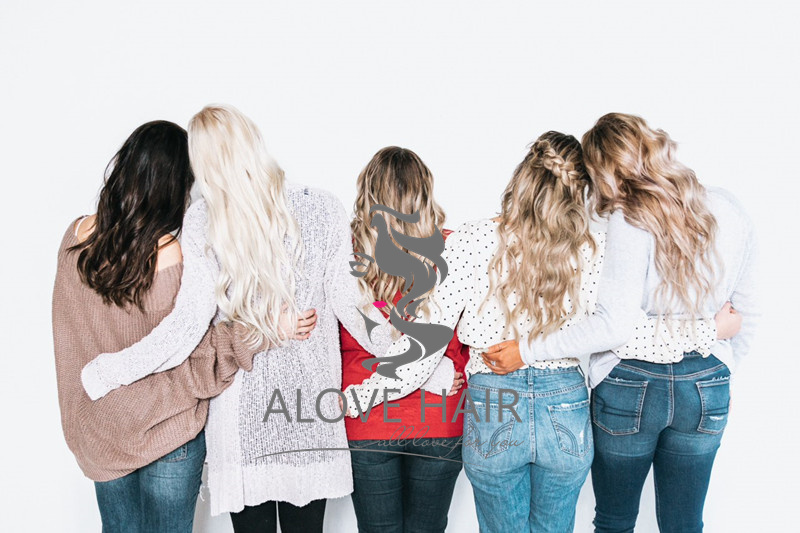 Hand-tied wefts are exactly as the name states— wefts of hair that are tied by hand, rather than machine tied. This results in much thinner wefts that comfortably lay flat against the scalp. Thanks to their thin bond, they can be stacked, making extensions more customizable than ever.
In order to take advantage of these thinly tied wefts, ALOVE Hair practices a unique method of installation utilizing thread and beads to build a minimal track. The hair is then sewn in to that track, creating a seamless, beautiful head of hair.
However, normal hand-tied hair extensions cannot be cut, and the hair extensions will spread out and become unusable. We also supply hand tied extensions with cut points, you can cut from the points .
2. Flat wefts
The top of the flat wefts is used to connect the hair with ribbons. It is very thin and natural. Flat wefts also has a greater advantage, that is, it can be cut according to your own needs. The flat wefts are very thin, usually only 0.1 mm, so it will be very comfortable to wear. This kind of hair extesions will becoming more and more popular.
The biggest difference between machine-tied hair extensions and hand-tied hair extensions is that the hair extensions are thicker. Normally, the machine wefts are eleven whole hairs, but they can be cut freely. This kind of hair extensions also does not require tape,glue, or heat. It can be done by a certain damage method, and it can also be used again, and the price is often much cheaper than hand-tied hair extensions.
As the name suggests, the top of the hair is tape . This kind of hair extensions grafting is also relatively simple, that is, the hair stylist directly sticks the tape hair to your own hair. We have two tapesfor you to choose from, Italy white tape and American blue tape. The quality of these two tapesis very good. You can choose according to your needs.
The default size of our tape is 1*4cm, 2.5g per piece, 100g per pack. If you have other requirements for size and weight, we can also customize it according to your needs.
5. Pre-Bonded hair extensions
Pre-bonded hair extensions,otherwise known as fusion bonded extensions are one of the most well techniques available on the market .One of the oldest methods available ,it is still popular amongst hair extension technicians today ,even with the development of newer method such as micro rings and wefts .
There are several names for this process ;pre-bonded,nail tip u tip and flat tip .However all refer to the same method of fitting.The name pre-bonded hair extensions'is derived from the pre-tipped keratin bond at the top of each strand,the hair has been bonded previous rather than using loose hair during a fitting .
Pre-bonded extensions are fitted using a heat gun ,which melts the small keratin bondto a section of the clients's hair .Once melted the keratin is rolled between the technician's fingertips to fuse and colol into a solid bond.
Nano Ring Hair Extensions also known as nano hair extensions,nano rings,nano bondes(or nano beads) are the answer if you are looking for hair extensions that are non-visible yet permanent .
Designed to be smallest most discrete micro ring system ever ,nano ring hair extensions allow you to have permanently fitted extensions that are not only secure,but virtually undetectable .Easily applied and removed using our nano ring pulling loop and precision pliers.
Our superior italian keratin is used to pre tip our nano hair extenisons to incorporate the finest tip system which is inserted into a tiny copper micro ring ,a fraction of the size of regular micro rings,the nano ring is clamped to the hair avoiding the need for glue or heat application.
Our superior quality cuticle intact remy nano hair extensionswill remain soft and lustrous for months,the quality of nano bond is designed so that there should be little or no shedding during wear,Each nano extensions strand contains 0.8g-1g of ouble drawn cuticle intact remy hair .This is the optimum amount for the tiny ring and for blending .
To ensure longevity of the life span of this hai we recommend the use of our specialist hair extenisons after care products .These are specially designed to keep your hair extensions in premium condition and maintain their vitality .Fit using our nano ring pulling loop and hair extensions pliers.
The clip is sewn on the hair extensions , and you can directly clip the clip to your hair. This kind of hair extensions can be worn at any time or taken off at any time, which is more convenient to use.
8. PU Skin Hair Weave
This is a new type of hair extension, made of pu material, but it looks like your skin, the whole looks more natural, fits your scalp, and can also be cut and reused.