High quality cuticle intact remy piano color hand tied hair extensions
Hand-tied wefts will not cause lumps at the crown or stick out from the regrowth of one's natural hair. Each 10-12 inch weft is designed to be folded over itself at the ends instead of trimmed. Trimming the weft will cause the weft to unravel or shed.
ALOVE HAIR Hand-Tied wefts can be heat styled and is ultra lightweight - allowing for multiple wefts to be layered for multi-dimension color blending without damage to one's natural hair. The weft is durable, long-lasting, and less visible on the scalp. Revered for only selling strands that are true-to-length, from root to tip - Hand-Tied Hair is immediately identifiable by feel and appearance.
These hand-tied wefts are composed of micro-fine, flat wefts that lay discreetly against the scalp. Thinner and lighter than machine-tied hair, hand-tied wefts are the most undetectable and comfortable extensions available. The hair lays flatter against the scalp and can be re-used. Each weft is handcrafted using only the healthiest hair and offers the largest spectrum of natural human hair colors, lengths and textures in the industry.
Hand-Tied wefts can be installed using a variety of application methods including micro-rings and sew-ins. Because Hand-tied wefts are ultra thin, they can be stacked and layered in one row and lay close to the scalp. It is crucial to know that Hand-Tied wefts should never be cut during installations as they will unravel.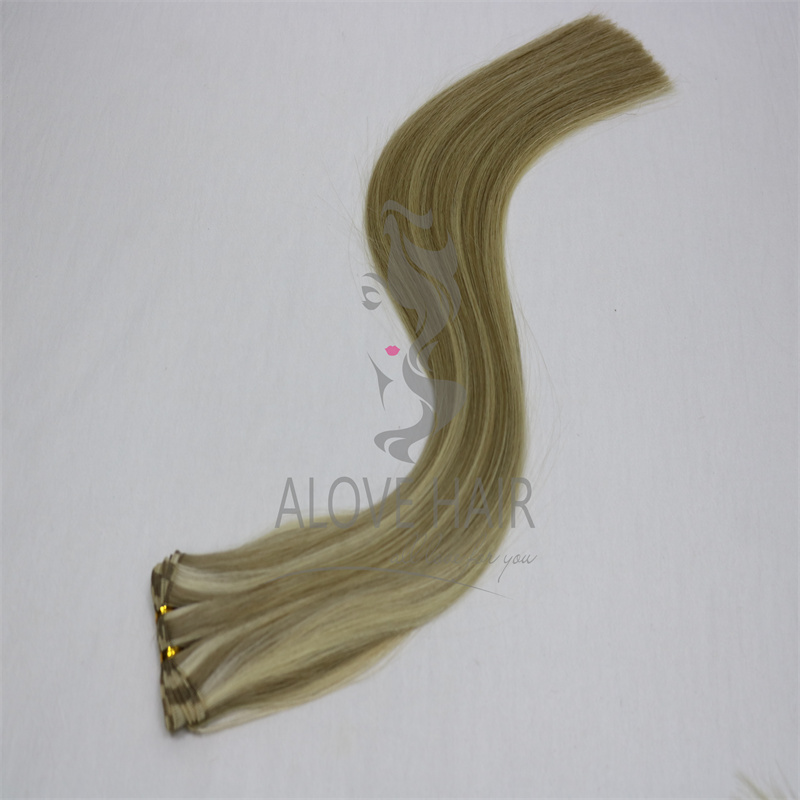 ALOVE HAIR as the professional hand tied wefts manufacturer supply piano color 18/22 for hair salon and hair stylists !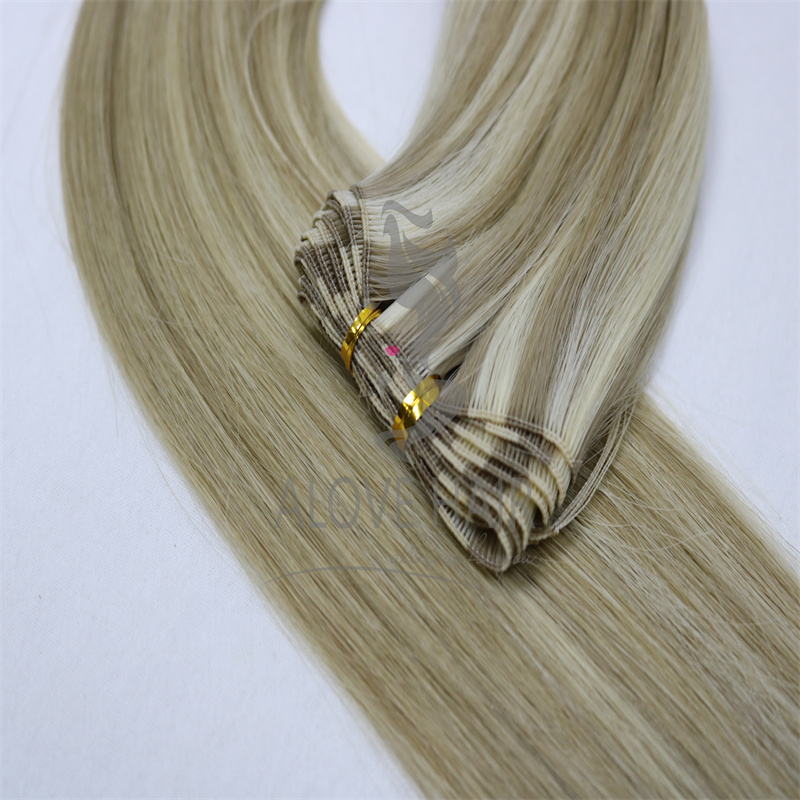 Thin knot hand tied wefts are best choice for thin and short hair women .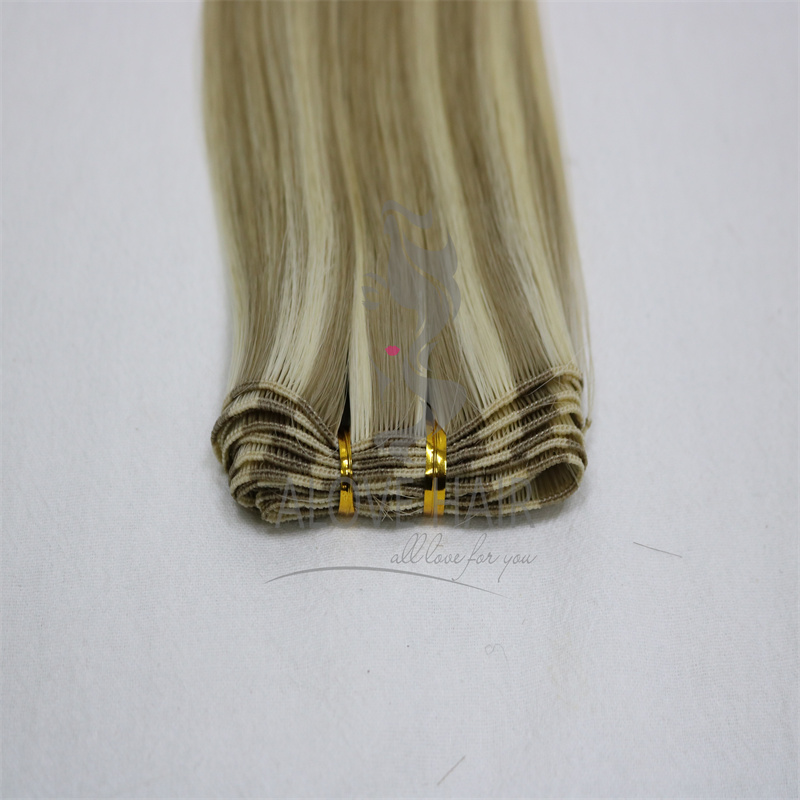 We use single donor hair as material ,keep cuticle on hair ,so our cuticle intact remy hand tied hair extensions can last more than 1 year,no shedding,tangle free .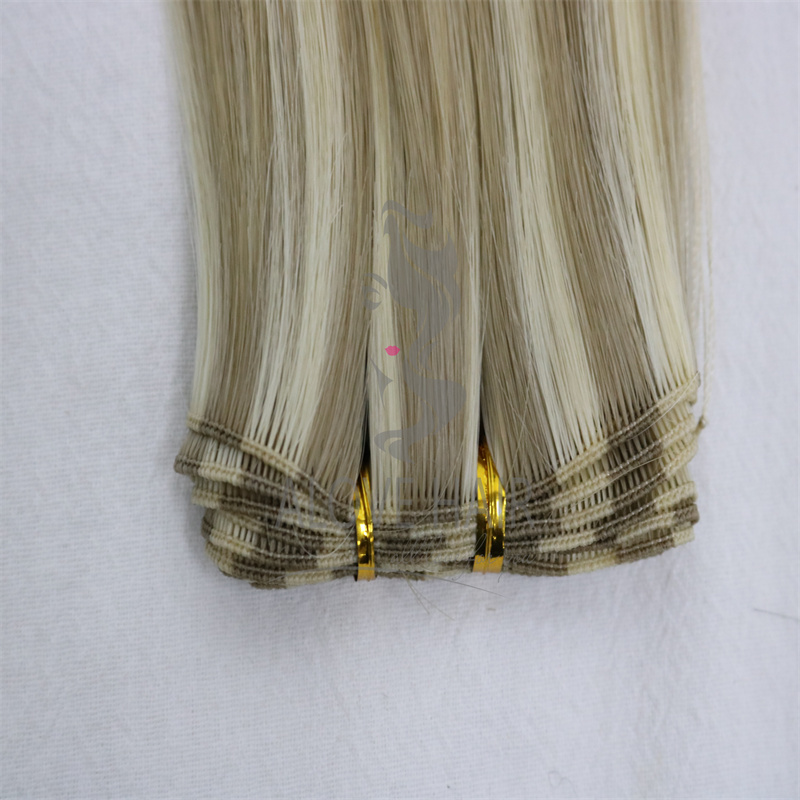 Supply different color hand tied wefts like piano color,mix color,balayage color and so on .also accept the customzied made .
Supply customized package that help hair salon and hair stylists build their own brand hair extensions business line .
Cuticle-Intact Remy Piano Color Hand-Tied Hair Extensions
Product Description:
Our Cuticle-Intact Remy Piano Color Hand-Tied Hair Extensions are the epitome of luxury and quality in the world of hair extensions. Crafted with meticulous attention to detail, these extensions are designed to enhance your natural beauty and provide a seamless, stunning look.
Key Features:
High-Quality Remy Hair: We source only the finest Remy human hair from single donors, ensuring that the cuticles remain intact and aligned. This maintains the hair's natural strength, luster, and minimal tangling.
Piano Color Excellence: Our piano color extensions showcase a captivating blend of multiple shades, creating a visually striking and dimension-rich appearance. Whether you desire subtle highlights or bold contrasts, these extensions offer versatility in style.
Hand-Tied Craftsmanship: Each extension is created using a labor-intensive hand-tied method. Skilled artisans delicately tie individual strands to a weft, resulting in a thinner, lightweight weft that mimics the natural growth of hair. This technique guarantees a comfortable and natural look.
Superior Comfort: Our hand-tied extensions are designed with your comfort in mind. They lay flat against the scalp, eliminating any discomfort or bulkiness often associated with other extension methods.
Durability and Longevity: With proper care and maintenance, our cuticle-intact remy extensions can last for an extended period, maintaining their premium quality and appearance.
Customization Options: We understand that every customer is unique. That's why we offer customization options, allowing you to choose the length, texture, and color blend that perfectly suits your clients' preferences.
Why Choose Our Hand-Tied Extensions?
Unparalleled Quality: We pride ourselves on delivering the highest quality extensions, meeting the demands of even the most discerning customers.
Stunning Visual Impact: The piano color effect of our extensions adds dimension and vibrancy to any hairstyle, ensuring your clients stand out.
Natural Look and Feel: Our hand-tied extensions blend seamlessly with natural hair, offering a realistic appearance and comfort that lasts all day.
Satisfied Customers: Countless satisfied customers and salon professionals trust our products to deliver exceptional results.
Partner with Us:
We invite you to partner with us to provide your clients with the finest hand-tied hair extensions on the market. Our commitment to quality, customization, and customer satisfaction makes us the ideal supplier for your extension needs. Elevate your salon or retail business with our Cuticle-Intact Remy Piano Color Hand-Tied Hair Extensions and make every hair transformation a work of art.
Contact us today to discuss wholesale pricing, customization options, and to start offering these exceptional extensions to your clients. Join us in redefining beauty one strand at a time.