What are hand tied extensions?
Wholesale hand tied extensions are extensions of hair that are tied together by a professional hair stylist. This type of extension is ideal for those who want to achieve a longer, thicker, and more natural look. The extensions are made from 100% human hair and can be cut, colored, and styled just like your natural hair. When having this type of extension installed, the stylist will typically tie small sections of the hair together, working from the root to the tips. This technique ensures that each piece of the extension is secure and will blend seamlessly with your own hair.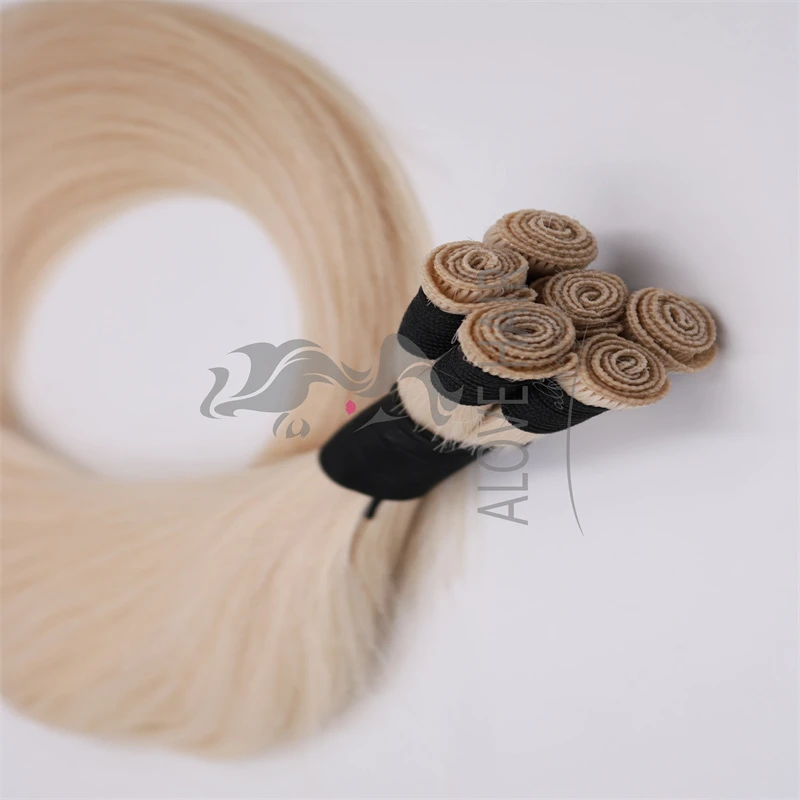 Hand tied extensions features
Hair extensions are a great way to add length and volume to your hair. Hand tied extensions offer a natural appearance and a comfortable, secure fit. The following features make hand tied extensions a popular choice for those looking to enhance their look:
Hand Tied Extensions are Secure and Comfortable: Hand tied extensions are secured with a special knotting technique, so they are secure and comfortable to wear. This method also helps to keep the hair in place, so you don't have to worry about the extensions shifting or slipping out.

Natural Appearance: Hand tied extensions give a natural look and feel because they are made to blend in with your current hair. The knots used to secure the extensions are small and discreet, so they will not be noticeable.

Reusable: Hand tied extensions are reusable and can last up to six months or longer with proper care and maintenance.

Versatile Styling: Hand tied extensions offer versatile styling options. You can curl, straighten, and style them as you would your natural hair.

Low Maintenance: Hand tied extensions are low maintenance and require less time and effort to care for than other types of extensions.
It is because of the above features of hand tied hair extensions that they are especially popular especially in the white hair market. If you are running related hair business, this is a good choice.
How to wholesale hand tied extensions?
1. Research the market to determine the demand for hand-tied extensions in your area. Visit local salons and beauty supply stores to get an idea of the products they carry and the prices they charge.

2. Source your product from a reliable supplier. Look for a supplier who specializes in hand-tied extensions, and is able to offer competitive wholesale prices.


3. Calculate your pricing. Make sure you factor in your costs and overhead, as well as a profit margin, when determining your wholesale prices.


4. Develop a marketing plan. Reach out to local salons and beauty supply stores to let them know about your product and pricing. Promote your product on social media and through networking with other beauty professionals.


5. Develop a customer service plan. Make sure you are able to provide the best customer service to your customers, including prompt and helpful responses to inquiries, accurate and timely order fulfillment, and quality assurance.


6.Through the wholesale model, it can help your start-up company quickly start a hair extension business. The prerequisite here is to find a real and reliable hair manufacturer or supplier. The quality control of the hair is stable, such as: the color difference of the hair extension, whether the material is sufficient, whether the delivery is timely, etc.

How to wholesale hand tied hair extensions from China?
For customers looking for China wholesale hand tie hair extensions, here are a few ways to try:
1) Try to search for hand strap extension suppliers or manufacturers on Google or B2B websites (such as Alibaba), and check their ratings, reviews, and after-sales services to determine the right supplier for you.

2) Participate in peer-related exhibitions or conferences, and obtain their wholesale quotation information through exhibitors.

3) Refer to some industry websites to check the information of relevant wholesale expanders in China, or try to contact the factory for direct purchase.
Through the above explanation, we can clearly see that as long as you find a real and reliable hair extension business, you can largely solve the shackles of your rapid development of hair business. Another key issue that has to be mentioned is that you must have a certain amount of start-up capital. If you have a good sales channel, a start-up capital of US$1,000 may be enough.