How To Attach Flat Weft Hair Extensions
Flat weft extensions are among the best sellers in the current market today. Hence, knowing how to install this extension is key. As we all know, silk flat weft extensions are a flexible product and have some different ways of installation. Hairstylists use clips, tapes, beads, or sewing to secure the hair in the right place. They will use the technique they are smart. Now, we guide you with a simple way to wear this hair system – using clips.
– You have to determine where you are going to place the flat weft hair extensions first. Then tie the rest of the hair to tidy them up.
– You sew some small clips onto the selvage of the hair extension. Remember that the color of these clips is close to the color of the hair system.
– Place the hair extension to align your natural strands. Clip the hair so that the system stays on your real hair. Adjust the extension so that it looks as natural as possible. You can remove the hair when sleeping by un-clip these small clips. The silk flat weft is super lightweight, it offers users a comfortable feeling. Using clips allows you to add more hair thickness and you apply the extension to your natural locks just in seconds. Also, you can easily take them out at any time.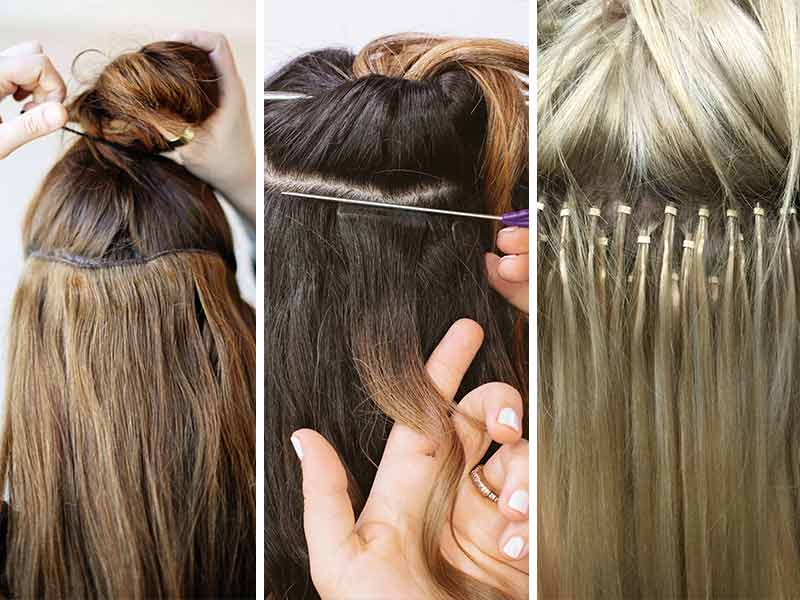 Other techniques for application
If you are unfamiliar with this technique, you can use tape as well as silicon beads. For example, using micro silicone beads allow you to attach hair extensions strands by strands and fasten your natural locks. It blends seamlessly to your real tresses and gives your dream look. While using tape can hold your micro sealed thin flat silk weft for a month. Wearers can enjoy their beautiful hair day and night. All you need to do is to fasten the adhesive to the seam of the extension and attach it to your hair.
Feel free to use these application methods to get your desired hair look and it will not damage your tresses. You can cut the hair extension to put on the hair. Bear in mind that don't put too many clips or beads on the weft as it may cause tangling issues at the hair roots.
Upkeep the flat weft hair extensions
This extension is a great alternative to waiting for your natural locks to grow, so you need to upkeep and protect it. What should you do? Remember that it is not your natural hair, you have to treat them carefully. You take yourself to a hair salon for a check after about 6-8 weeks. Your hairstylist will help you adjust and tighten the silk weft, the process only takes about 30 minutes.
After several checks, your hair system should be reapplied. Bear in mind that reapplication is necessary. Going to a hair salon and hairstylist helps you secure the extension closer to your scalp. You can do the process at home but we recommend getting a professional. Also, clean the hair with proper shampoos. Because the hair is not real, use hair care products that contain no chemicals, such as paraben, alcohol, etc. Poor-quality shampoos may damage and dry the weft quickly. Apply conditioner to moisturize and give shine to extensions. In order to protect hair from shedding and tangling, don't wash it too often. After finding the best shampoo for your tresses, you should be loyal to them.