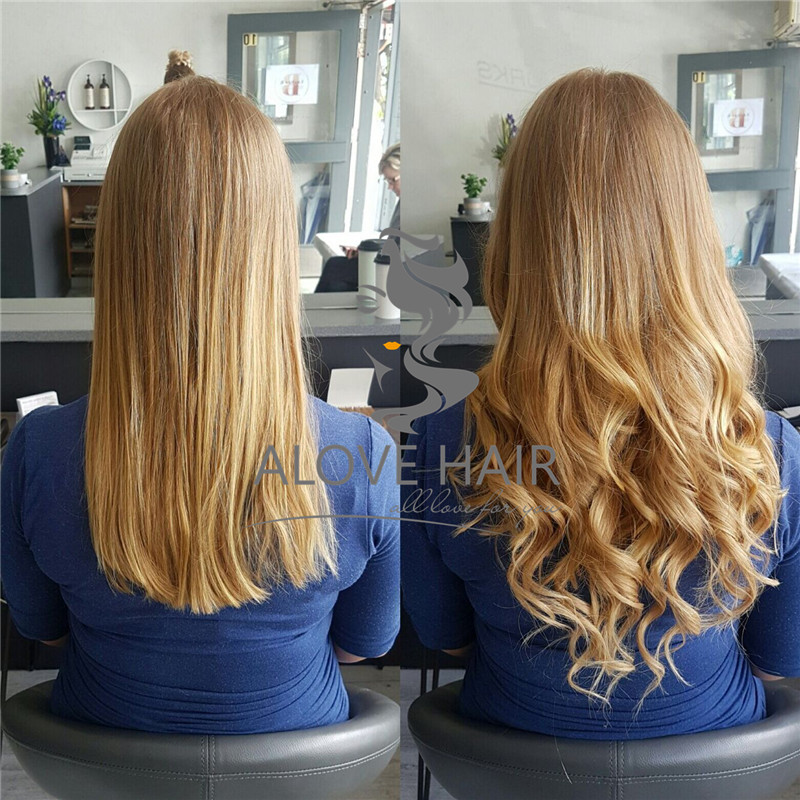 HAND TIED HAIR EXTENSION FAQ AND COST
Where do you go?
You can find suppliers through Google search.You can match your hair by communicating with the supplier to determine the hair color length.When you get your hand tied extensions ,you can find a local hair salon that install your hand tied wefts .
What method did hair salon use?
American hair salon used the Handtied Method. This is a great method because it uses minimal points on contact on your hair. Basically a few beads are installed and then a whole weft (basically a strip of hair) is sewn into the hair and beds. I have 2 rows on my head.
What kind of hair did you get?
Alove hair as the professional hair extensions factory ,supply different color hand tied wefts ,tape ins ,flat wefts and so on ,you can choose the method of hair extensions ,You also can choose the length and color that suitable for your own hair .
How Long Does it last?
The hair itself should last about 12-24 months depending on how well it is taken care of. Going in every 6-8 weeks for regular maintenance to have the hair moved up will help prolong the life of the hair.
How much is it?
Before buy hair extensions ,our saler will send you price list for your reference .Our price must be cheaper than you buy from local market .
How about our hand tied extensions ?
Our cuticle intact no silicone remy hand tied extesnions can last 1-2 years ,no shedding,tangle free .We collect hair material by ourself ensure material quality is best .Hair material cut from one single donor ,no mix with fiber .so our hand tied extensions are 100% human hair .We use advantage technology that keep cuticle on hair ( same direction) so our hair can continue to absorb nutrients through conditioner and shampoo.High quality hand tied extensions will let customer have a good experience .
What products do you use on your extensions?
I am currently using all things moroccan oil! I have the shampoo and conditioner, and the Moroccain Oil Treatment is my favorite. It is an oil that I put on my towel driend hair. And then I will also spray this heat protector on my damp hair as well. A heat protector is a must for extensions.
P.S-If your hair is colored, make sure you stay away form any products that have sulfates in them- this will fade your color!
How often do you wash your hair?
Before extensions I was washing my hair about every 3 days. Now I am washing it every 6-7 days. I find with the extensions, my hair isn't getting as oily because there is more hair to absorb it. Also, dry shampoo is great and not harmful for extensions, so that helps me go longer between washes. The less you was the extensions, the longer the life of the hair.
Is it damaging to your natural hair?
For hand tied method is one of the least damaging. We heard some girls say extensions were terrible for their hair, and then others who say their natural hair was able to grow better with the extensions. We think there are a lot of factors like type, installation technique, and maintenance that will all play factors in if your hair gets damaged.
How to choose hair extensions color ?
We can show you our color ring , you can choose the color number according to our color ring ,we also accept the customized made order !
Can I do it if I have thin hair?
Yes you can get extensions if you have thin hair, but if you have extremely thin hair, then they might use a different method. Tape-in extensions are good for people with extremely thin hair.