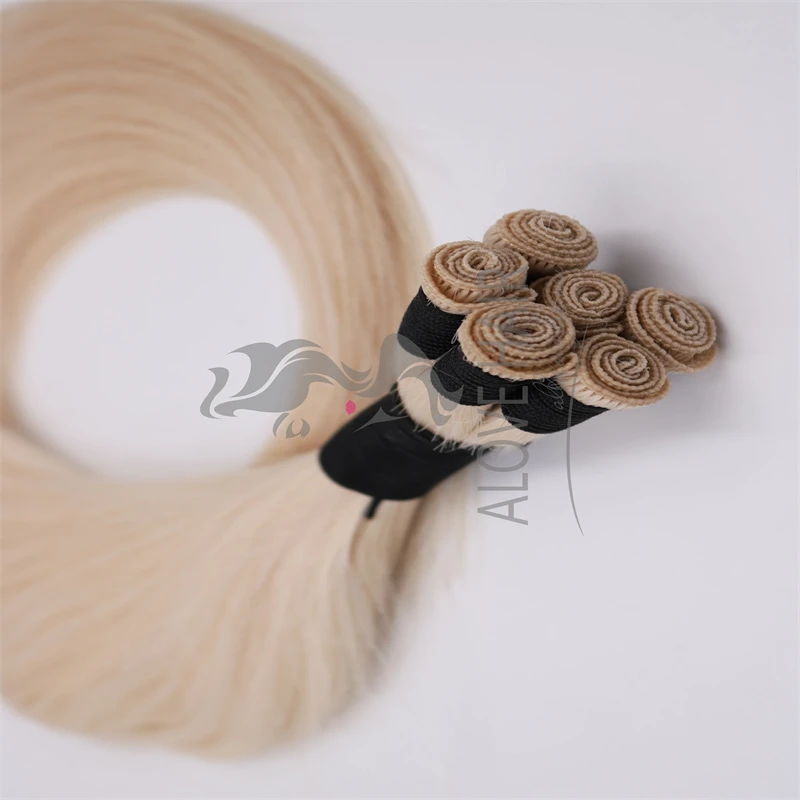 We often receive inquiries from customers about not knowing which type of hair extension to choose? The most popular and best hair extension products currently on the market are hand-braided hair wefts. Hand-braided hair weft is one of the most high-end hair extension methods, popular in high-end salons in Europe and America. Hand-braided hair wefts can change the thickness and length of the hair without glue, tape or heating, which minimizes the damage to the hair receiver's own hair. It is a very safe and healthy hair extension product.
Hand-knitted wefts are hand-stitched onto a continuous thread and knotted by skilled artisans, resulting in a strong, thin weft. Generally, there is a 1-inch hair back or folded hair. For people with sensitive scalp, it is recommended to test this hair back in advance.
Hand-knitting hair wefts are generally made of the highest grade virgin hair, and the lifespan of the hair can usually reach more than one year. Generally, hand-knitting hair wefts can be reused many times.
Hand braided hair extensions are the thinnest type of hair extension, usually 0.37-0.42mm thick, depending on length and weight.
Hand-woven hair wefts are hand-woven hair curtains, usually 12 inches, and can be customized if you want to be longer or shorter. It is very thin, so it can better blend with your own hair
The installation methods of hand-woven hair wefts include beading, stitching, or bonding. These methods do not damage the hair of the hair receiver itself, and will not cause too much damage to the hair or scalp. Thereby achieving changes in hair length, thickness, color and shape.
Under normal circumstances, to connect a complete head of hair, more than 3 rows of hand-knitting wefts are required, and no row requires 2-3 pieces of wefts. The whole head needs about 6-9 pieces of hand-knitted hair wefts to complete the volume increase.
It is best not to cut the hand-woven hair weft by yourself, which will easily cause the hair to fall off. If you must cut it into pieces, please go to a professional salon to ask for assistance, and use special glue for wigs to glue the joints of the hair weft.